What is 1080?
The average house built by Habitat for Humanity is 1,080 square feet. This provides a two-bedroom, 1-bathroom home to a family in need. All the work is done by skilled volunteers, many of whom have spent their professional lives in the construction field and want to give back to the community. Other volunteers are past recipients of homes and are paying it forward to the next family in need. And still others are learning to contribute to the community in new ways. So while there are no labor costs because of the volunteers, materials still need to be purchased and costs of building a new home covered by donors and supporters.
That's where 1080 comes in.
Maybe you're not a skilled worker or aren't able to donate hours to build a house, but still want to be part of Habitat for Humanity's work. With the 1080 initiative, you can choose a square to sponsor by choosing a number between 1 and 1080 and donating that dollar amount.
If every square foot's dollar amount is donated, Habitat for Humanity can build eight homes. That's eight families with changed lives, and a clean
Fast Facts: 
Habitat for Humanity does not provide free housing, and it is not a federal government program or transitional housing provider. But we do believe in the American dream of homeownership, and believe it is possible for everyone to have decent, affordable homes.
Habitat for Humanity homes are sold at no profit and financed at 0% interest to qualified partner families. The mortgage payments further the Habitat for Humanity mission and are used to serve more families.
In addition to assisting with construction and in the ReStore, qualified partner families attend 55 hours of home ownership preparedness and financial literacy training.
Habitat for Humanity worksites promote community between volunteers and recipients, regardless of political, ethnic, and religious differences. We work to build relationships, not just houses.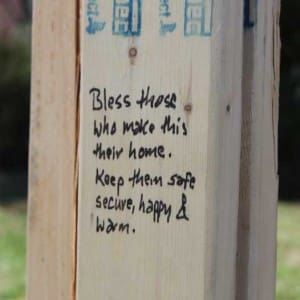 Habitat for Humanity partners with the community and families in need to make decent, affordable homes a reality. But we need you to make it happen! You can get involved by volunteering at a worksite or the local ReStore, or by making a donation to cover the costs of materials.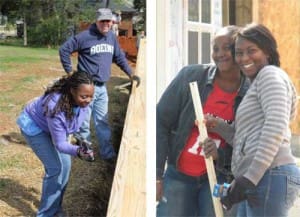 The American Dream is more than homeownership; it's the chance to build lives. And a home is where families can begin building. So at Habitat for Humanity, we're not just building homes—we're helping build lives.
Habitat for Humanity builds and sells decent, affordable homes for qualified partner families so poverty housing eliminated from our community.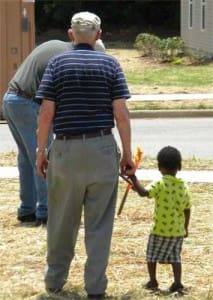 We serve the families in Huntsville and Madison County, Alabama.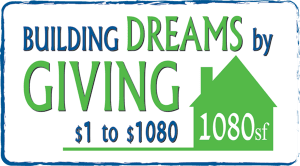 Here's how 1080 works: Choose a square foot between 1 and 1,080 (the average square footage of a Habitat for Humanity home) and donate that dollar amount. If every square foot's dollar amount is donated, we could build eight homes! That means we can change the lives of eight families forever! Choose as many squares as you'd like. If you have a particular connection to the number you choose, we would love to hear about it! Share your story in the notes after you have selected your square(s) or by emailing [email protected].
Every square matters, even the $1 square! Choose a square that is significant to you, and then let us know why! These stories are just two of the many who have given not just a part of their wealth, but a part of their hearts.
"I chose two squares; square 1077 and square 330, totaling $1407. Perhaps you're thinking…why? Well, this was the very first address of the house my husband and I shared as newlyweds. We brought home both of our beautiful children from the hospital, to this very same address. When my husband and I later divorced, I became a single mom in this house. Sometime later, I met my new husband and we lived there for the first year of our marriage. As I considered what my donation would be, I realized the only thing that had remained constant in my life, with all that I had been through over the years, was this address. You see, this house at 1407 had not just been a house, but a safe place; it had been a home. So I decided to celebrate my home, 1407, and all the blessings in my life, with the partner families of Habitat for Humanity as they work toward purchasing not just houses, but their homes."
"God put the scripture, Galatians 5:14, on our hearts as we prayed about what amount we wanted to give to Habitat. It reads, 'For the whole law is summed up in a single commandment, you shall love your neighbor as yourself.' We couldn't think of a better way to love our neighbor than to help them fulfill their dreams of homeownership. So, we chose the square 514."